Wonderful Work
Here is some wonderful work from this term...
The ducklings visited the nursery this term.  We had great fun looking after them.
Reception have had a busy term learning and exploring inside and out of the classroom. These children are experimenting with weight and capacity.
This term we visited the Science Museum to support our class work investigating everyday materials. We found out lots of interesting information, went to a bubble show and tried out the experiments in Launch Pad!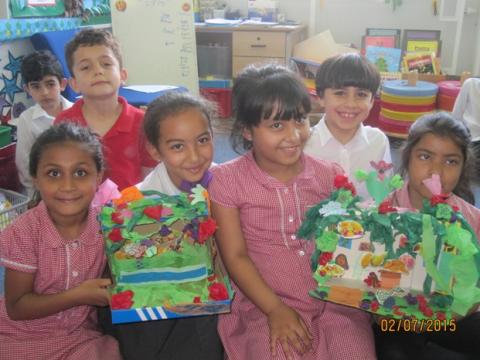 In year 2 we have been learning about Judaism. We learnt about the festival of Sukkot. This is the gathering of the harvest in Autumn. Jewish people make a Sukkah every year outside their houses or synagogue to show how grateful they are for their food. 
Year 2 made their own Sukkahs using boxes and other materials. 
As you can see they worked hard to decorate their Sukkah with fruits and leaves.
This term in maths we made cakes to help us understand weight and capacity.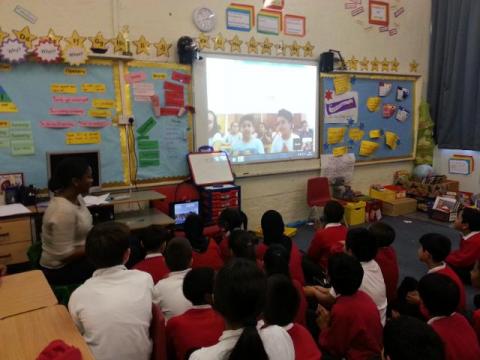 This term 4 Lavender had an exciting Spanish-English language exchange with children in Valencia, Spain. We video conferenced them and introduced ourselves in Spanish and English. We also talked about our favourite foods, hobbies, our families and our pets.
Year 5 began the term with a trip to central London to take photos of different landmarks, people and street signs.  They downloaded the photos at school and used an online editing tool called Pixlr to create a digital collage of their favourite shots, inspired by the artist Graham Holland.  Here is an example of a finished design by Renee Pambu, 5 Magenta.
Well done to everyone on a superb Year 6 Show. It was a lot of hard work, but you produced a fantastic spectacle. The teachers and your parents were all proud of you and you were and inspiration to the younger children at school. Well Done.
This is a link to a folder where you can download pictures from the show:
https://www.dropbox.com/sh/c4l01pv5r679xua/AACv9R7vB9wBYQrOLDmiDI7na?dl=0
This is a link to the youtube videos:
https://www.youtube.com/playlist?list=PLevP9HXeclzWGBIKsxGhcDqvNMaoX5fT5
They may be taken down or edited on Youtube beacuse of the copyrighted songs. If so, the original files can be downloaded here:
https://www.dropbox.com/sh/n9osbg4bbclzrap/AAC2USORBp1hpOoNM_bgEwpQa?dl=0
Leave your comments below.
Also, if you can't open your leavers book power point, it might might mean you don't have power point at home. Try uploading it to Google Drive and opening it in Google Slides (both free with a Google Account). You could also search for online PowerPoint viewer websites.
Have a great summer and good luck at secondary school.
Mr Goodsir
PS your DB Primary will be closed during the summer so download the pictures and links soon!