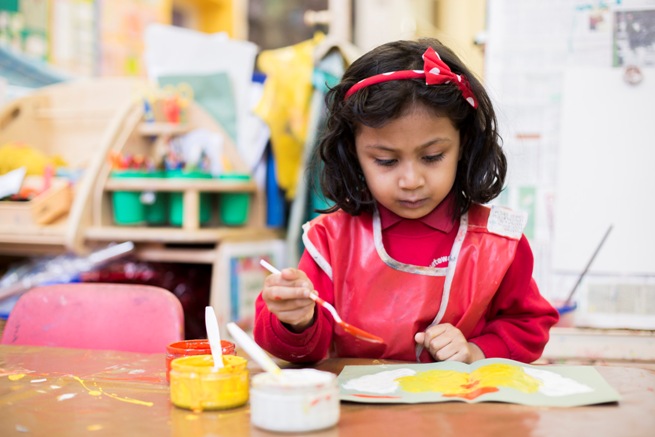 At Gateway Academy, we encourage all pupils to develop their creativity and imagination in art and design by exploring the visual, tactile and sensory qualities of materials and processes.Children in the Foundation stage follow the Early Years Foundation Stage Curriculum. All other Key Stages follow the National Curriculum. In KS1 pupils begin to explore and experiment with colour, shape, pattern and texture to represent their ideas and feelings. At Key Stage 2, pupils develop their creativity and imagination through more complex activities which build upon prior learning - improving their control of materials, tools and techniques.The Academy works closely with a number visiting artists who give our pupils first-hand experience of the importance of art, craft and design in the environment. Gateway has established relationships with a range of art galleries in London including: The Tate Modern, The Tate Britain, Royal Academy, Courtauld Gallery, National Gallery, The Serpentine Gallery and The National Portrait Gallery. We also work closely with our local gallery in Church Street -The Showroom.We have developed our own scheme of work which reflects the requirements of the National Curriculum. These often make links with the wider curriculum.Art is shared and celebrated throughout the Academy. We have flags at the entrance to the quiet garden, a vast display wall in the atrium, art work along the staircases and wonderful displays in our classrooms. We run competitions to replace our larger displays and encourage everyone to collaborate.
Children's Work
Recent Projects
Alicia Reyes McNamara & Gateway Academy, Tongue Ties, 2018
Throughout 2018, Alicia Reyes McNamara has collaborated with Gateway Academy and the Family Learning Involvement Project (FLIP). Tongue Ties is a collective celebration of knowledge, language and cultures. Pupils took part in workshops which promoted a positive approach to the development of bilingualism. Every child in the school was invited to choose and share a word, which became their contribution to the artwork. Responding to the culture of the school, the project also draws on Alicia's own lived experience growing up in a Mexican household in Chicago.Tongue Ties has been produced by The Showroom as part of their Communal Knowledge programme of collaborative projects. Communal Knowledge invites artists and designers to work with community groups, organisations,

schools and individuals from The Showroom's neighbourhood towards collective, creative outcomes. Communal Knowledge is generously supported by John Lyon's Charity.
How parents can help
There are a wealth of free museums and galleries to visit in London as well as public buildings and sculptures. Parents are also encouraged to teach art and craft making skills to their children through sewing and knitting to model making with scrap materials.
See below the links to the galleries we work with:
https://courtauld.ac.uk/gallery
http://www.tate.org.uk/visit/tate-modern
https://www.nationalgallery.org.uk/
If parents would like any additional help or ideas Miss Booth is happy to help!